MighteeFit Health Studio is the vision of founder & director Tee Tarjan. Tee has been a fitness professional for over 25 years, he has been involved in opening and operating large commercial gyms to working with some of the best coaches in the USA and across the Caribbean to training, developing and managing teams of up to 100 professional coaches and over 1000 clients around the world.
The MighteeFit Gym has been at the heart of Finchley since 2009; making positive changes in peoples lives. From weight loss, athlete training, strength, muscle building to improving general health and quality of life, our unique approach ensures your result is achieved and that you have fun and stay motivated through out your training journey.
Our private facilities are truly unique; a colourful, bright positive environment filled with like minded professionals who are here simply to ensure all our members achieve their health, lifestyle and physique goals using safe, effective, varied and bespoke tailored programs.
We offer small group classes or individual personal training sessions at both Finchley and East Finchley Gyms.
All our studios meet the COVID-19 standards for hygiene and social distancing guidelines as recommended by UK Active and Public Health England for gyms and fitness studios.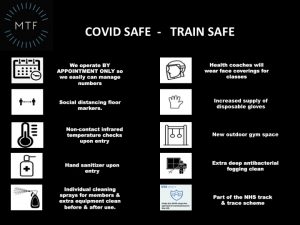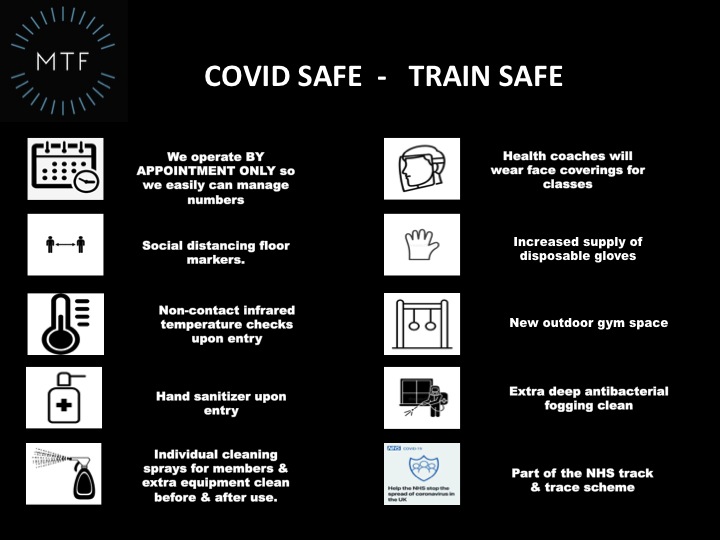 THE ECO- GYM AT MTF
Here are some of things we are doing to be environmental friendly:
We have planted over 30 trees around our outdoor gym in Finchley studio to offset our carbon footprint.
Fully recyclable cups for the water machine.
All our gym cardio machines are run by human power not by electricity (Schwinn Air Dyne, Concept 2 Ski Erg, Woodway Curve Treadmill)
Bike racks to encourage "cycle to work/gym".
Electric scooter available for staff to commute.
New outdoor gym space.
Refillable cleaning bottles.
All our suppliers and products are sourced within the UK/local community to decrease our carbon footprint and support local business.
Small Group Classes and Personal Training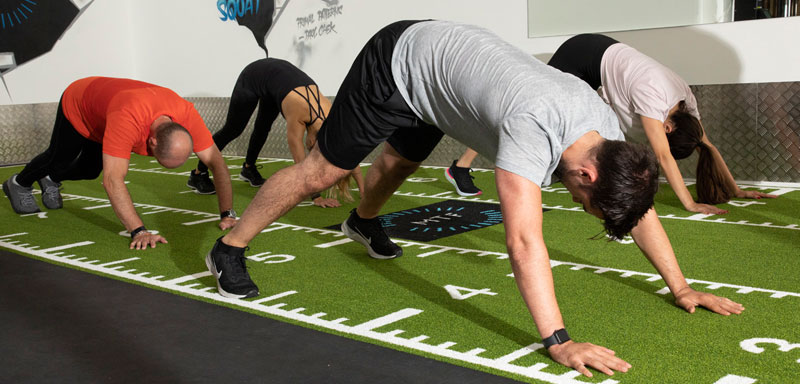 News Update
Get all the latest news from MighteeFit Health Studio.
March 2021:
The new and improved outdoor gym at Regents Park Road Finchley N3 re-opens from Monday 29th March 2021. The gym floor will have full range of cardio and strength equipment and will be weatherproof & includes heating, lighting and music. The changing rooms and individual shower rooms will also be open for use.
Book in NOW for your personal training session.
November 2020:
All the MTF team and clients follow the best COVID practices to ensure we remain a "covid" secure premises and remain clean and safe place to train. These have been approved and recommended by UK Active and Sports England.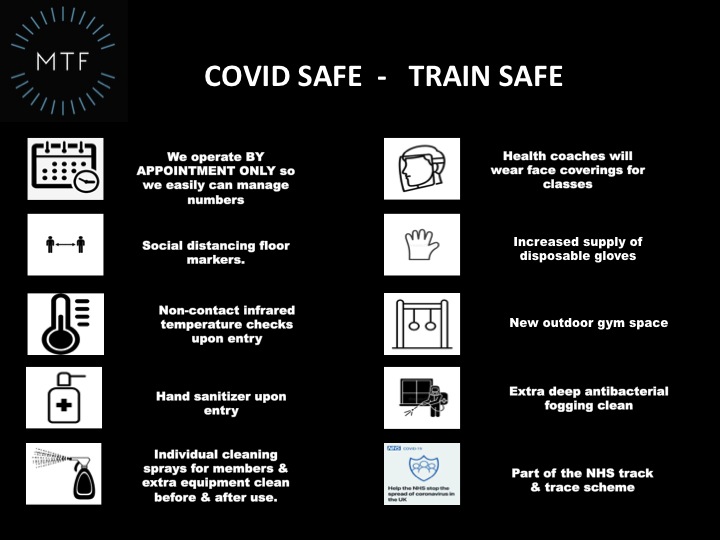 August 2020:
Officially the cleanest gym in North London. We regularly undertake a deep fogging to disinfect all the gym equipment and touch points.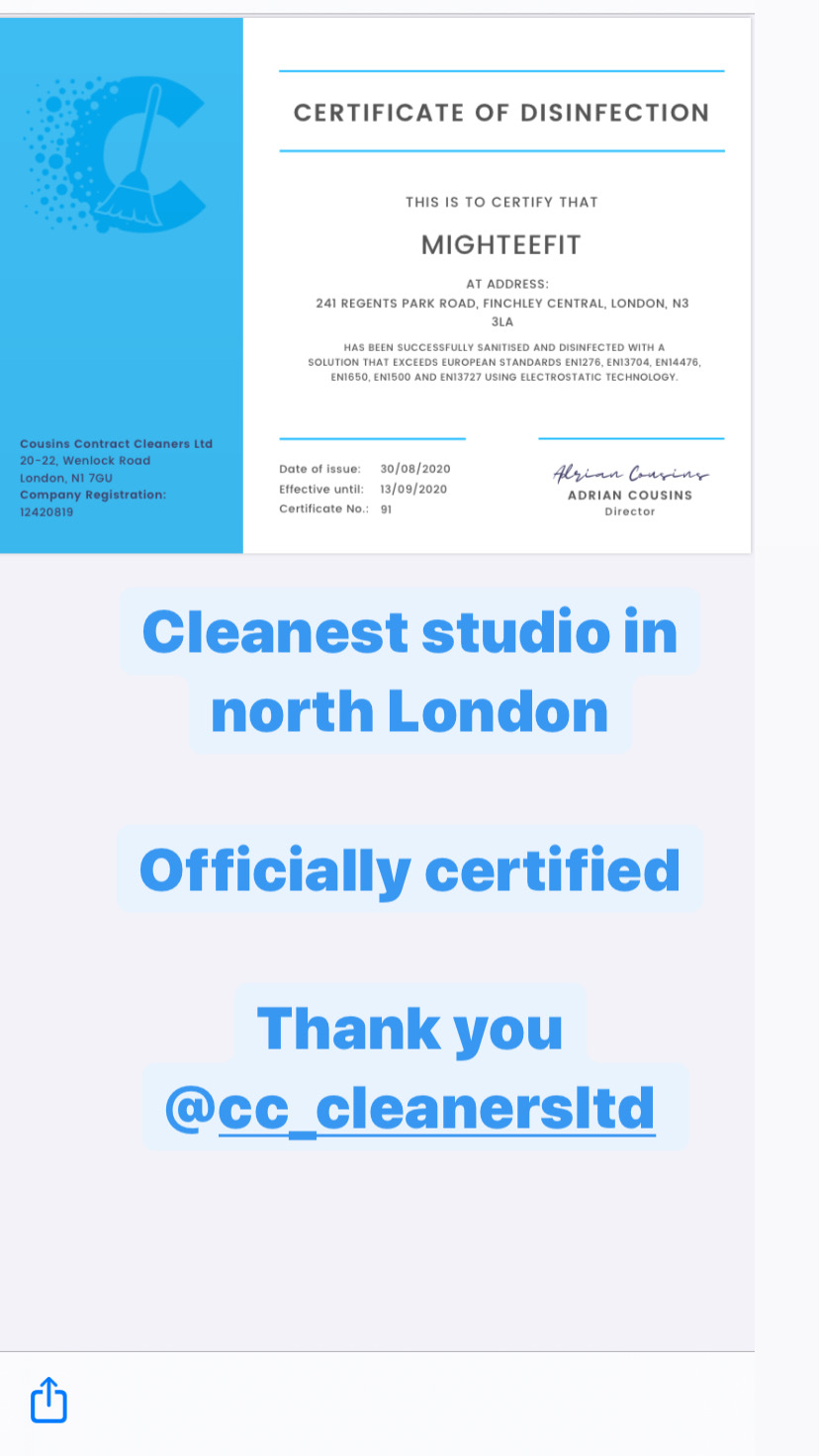 July 2020:
As the lockdown measures begin to ease and the "new normal" comes into play we at MighteeFit have been busy putting the new suggested legislations into place at both sites. We will re open our indoor facilities on Saturday 25th July.
What has changed?
Social distancing floor markers.
Non-contact infra-red thermometers.
Increased supply of anti bacterial wipes and sprays for extra cleaning before & after use of each equipment.
Personal face shields for each coach. 
Increased supply of disposable gloves.
Hand sanitizer stations. 
Individual personal training zones. 
Individual cleaning stations for group members to use during class.
No equipment will be shared during the classes.
New mats & resistance bands.
Small group classes capped to 4 persons.
Maximum studio capacity will be based on 100sqft per person.
We advise all to turn up "gym ready".
Cancellation for classes reduced to 12hs.
Individual changing rooms and showers will be open for use.
Towels/'sweat towels' will not be taken into the studio.
Ventilation systems will provide 100% fresh air and not recirculate air as well natural flow of fresh air.
Additional signs will be put up around cleanliness and social distancing.
Daily deep clean with updated shower areas.
Providing training for all the team on this new way of operating, ensuring client safety is always priority.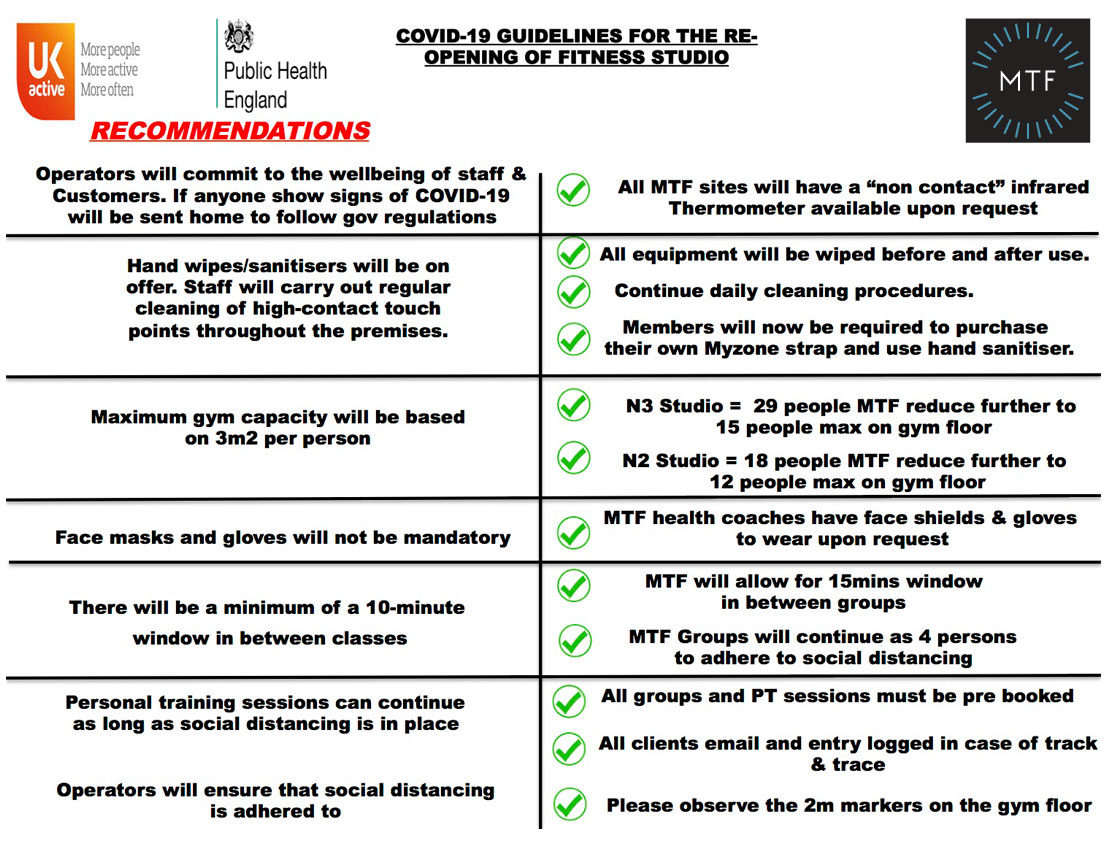 May 2020:
As lockdown eases in London we are getting prepared to reopen our studio. We have taken extra measures to ensure we comply with all the latest guidelines published by Public Health England and UK Active.
We have increased the availability of:
Anti bacterial sprays & wipes – all equipment will be wiped down before and after use.

Disposable gloves and face shields – our coaches will have this available upon request.

Social distancing gym floor markers to maintain 2m distance.

Hand sanitiser stations.

New outdoor training grounds.

Individual changing and showering cubicles.

As a private studio all appointments are pre booked and numbers on the gym floor are capped to avoid large groups.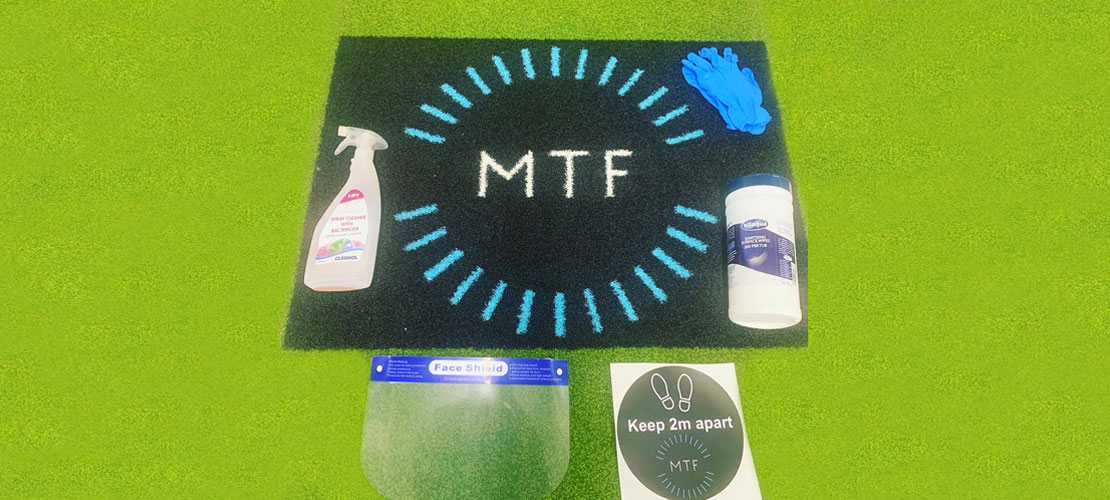 January 2020:
A new juice bar opens at the East Finchley studio. MixFit offers fresh juices, tasty smoothies and organic coffee. What is even better is that it is all served from eco-friendly and plastic-free packaging.
September 2019:
MighteeFit Health Studio opens 2nd studio in Finchley Central check us out 241 Regents Park Road N3 3LA.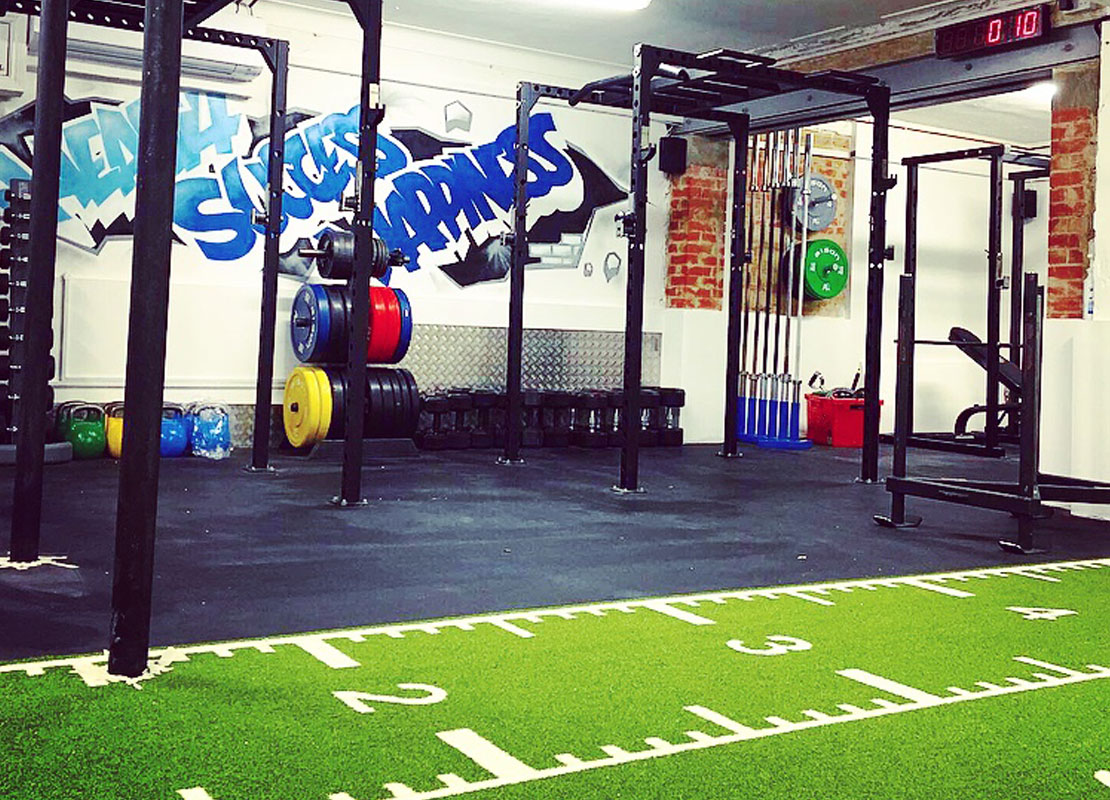 March 2019:
MighteeFit Health Studio moves into our new home in East Finchley on 172 High Road East Finchley N2 9AS.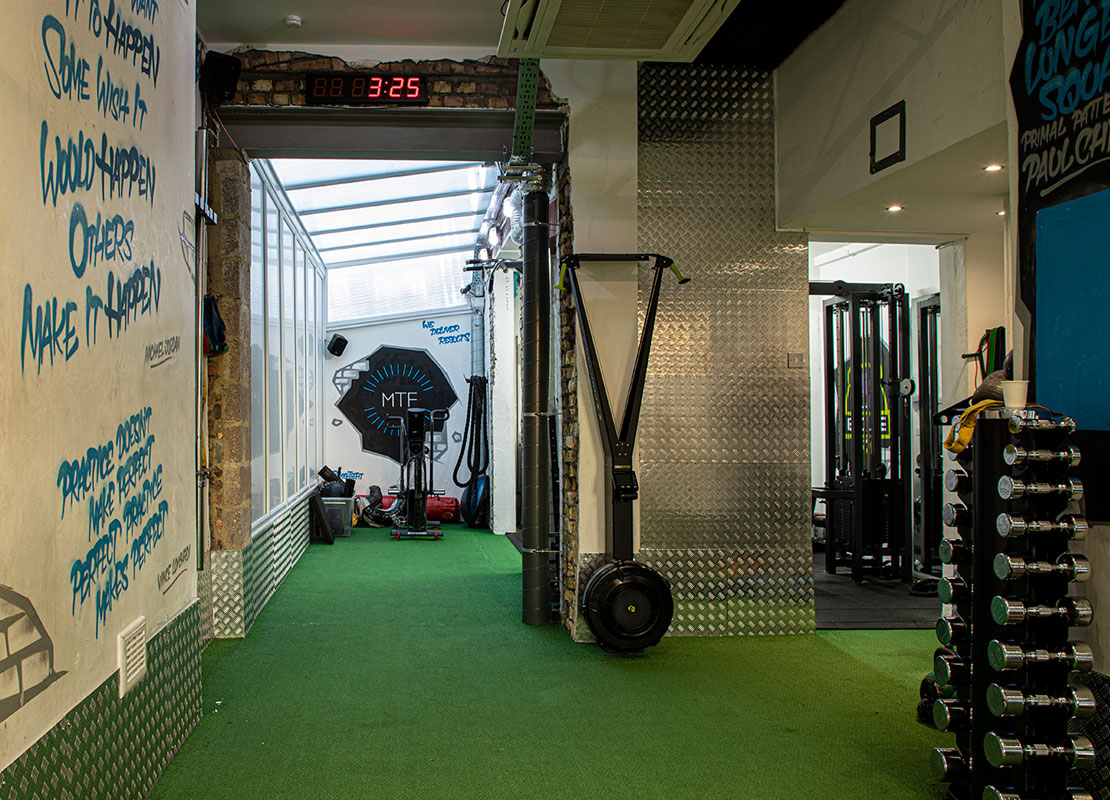 April 2018 
MighteeFit Health Studio takes on a new logo MTF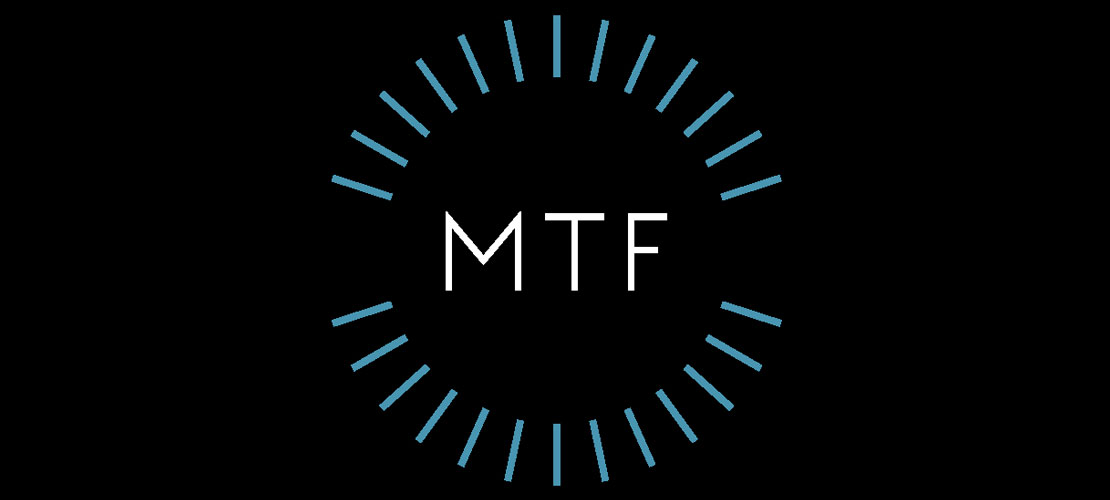 September 9th 2015:
Watch out World we are coming for you… It is official MighteeFit team just broke the Guinness World Record for the most amount of push-ups in a minute.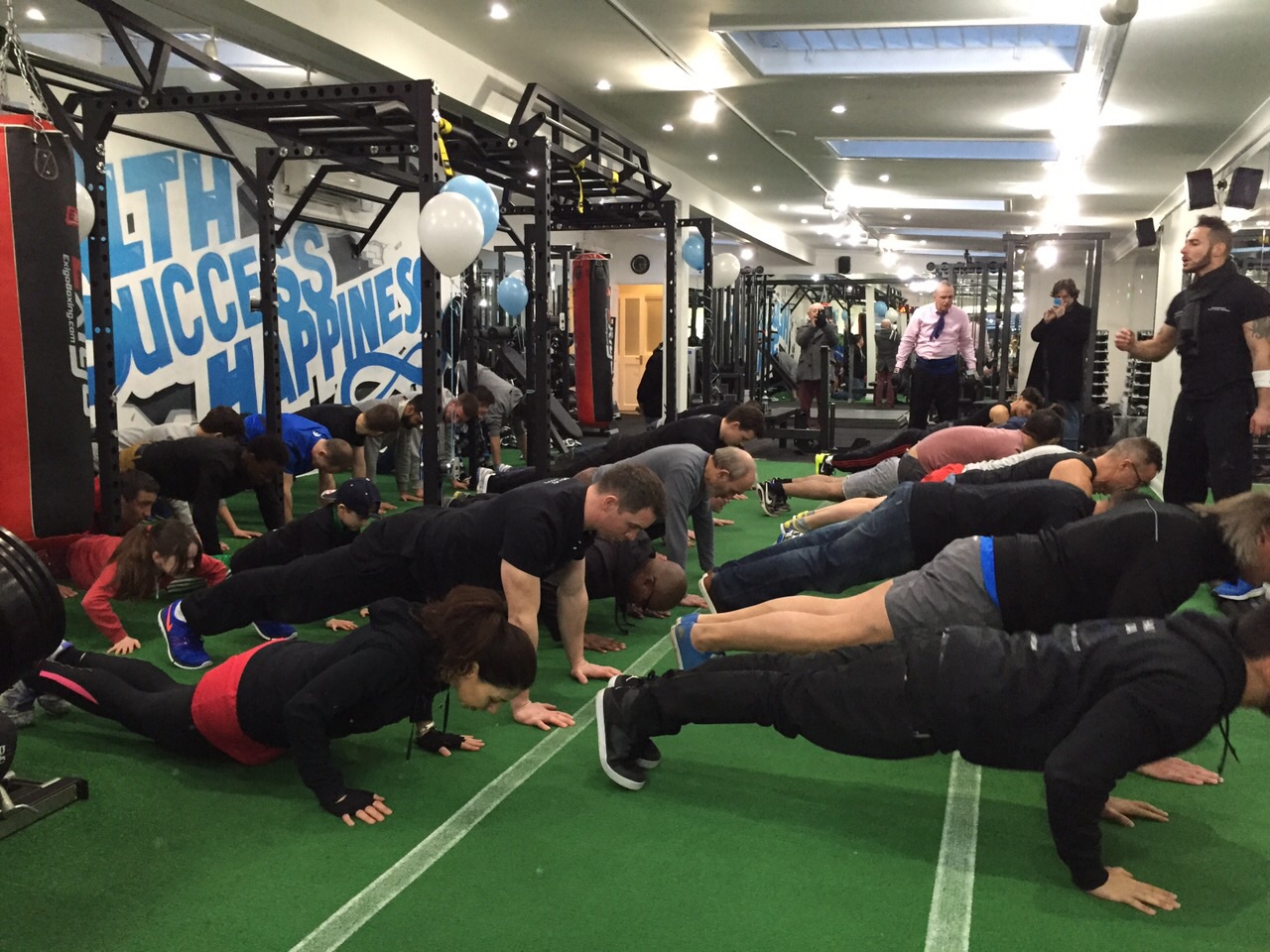 June 2015:
We proudly sponsored the Race your Neighbours N2 campaign.
Details found here.
Proud Photo of our members participating, well-done guys!